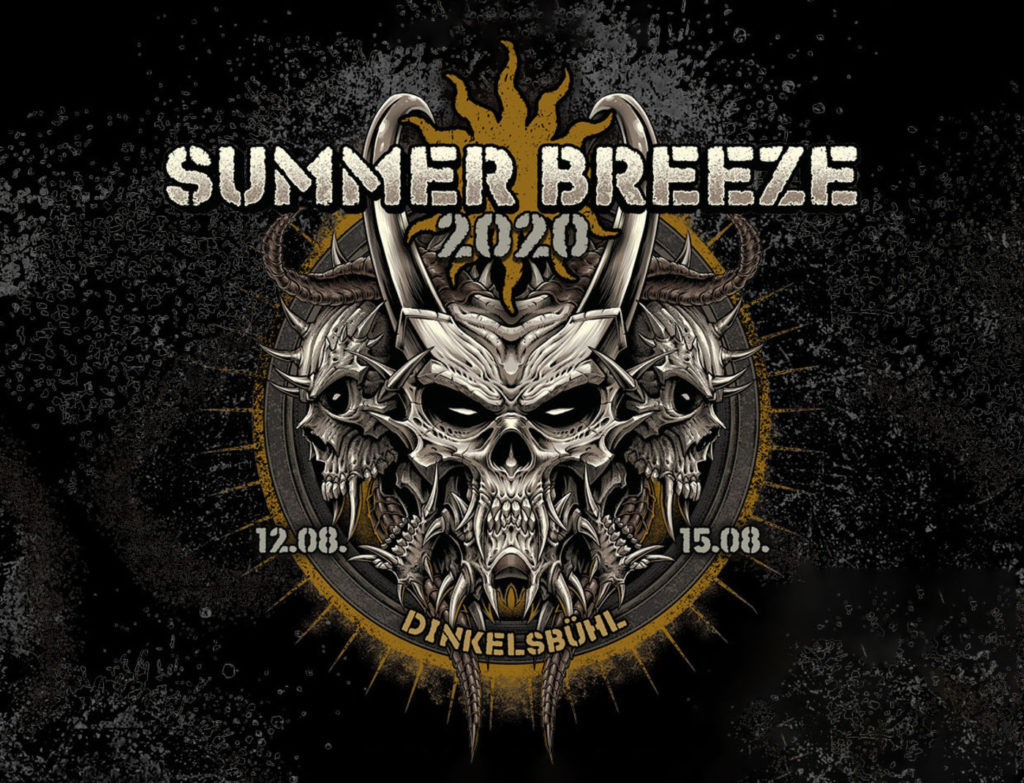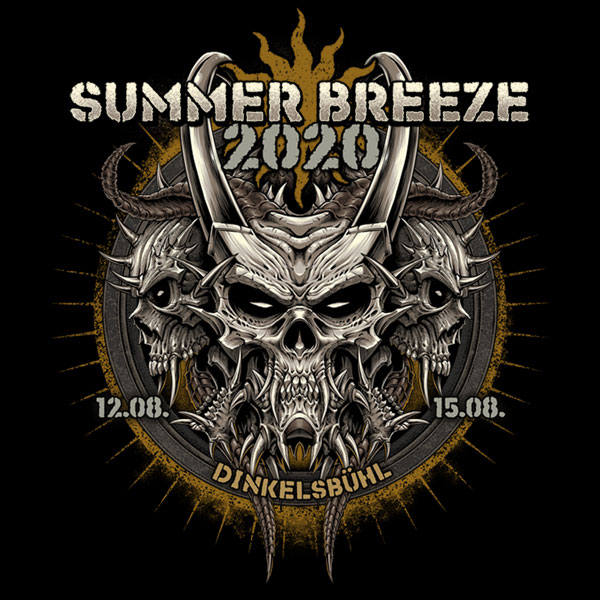 Das Summer Breeze Festival
Das Summer Breeze Open Air (kurz SBOA) ist ein seit 1997 (mit Ausnahme von 1998) jährlich stattfindendes Metal–Festival auf der Ostalb und seit 2006 auf dem Flugplatz des Aeroclubs Dinkelsbühl und mit derzeit ca. 45.000 Besuchern (Stand 2015) eines der größten in Deutschland. Das Festival findet in der Regel in der Woche des 15. August von Mittwoch bis Samstag statt.
Die Geschichte
Die Veranstaltung fand bis 2005 in Abtsgmünd in der Nähe von Aalen statt und zog 2006 in das 40 km entfernte Dinkelsbühl um. Jedes Jahr treten über drei Tage ca. 120 Bands auf vier Bühnen auf, die Hauptbühne ist seit 2017 drehbar und ersetzt die ehemalige "Main Stage" und die "Pain Stage" indem sie sich dreht (Eine Band spielt, während die nächste aufbaut). Dadurch kommt es zu weniger Überschneidungen und zu keinen längeren Wartezeiten. Die zweite Bühne (Partyzelt, seit 2014 als Andenken an den 2013 verstorbenen Mitbegründer Michael "Mr. T." Trengert T-Stage) steht etwas entfernt davon und ist durch das Zelt lärmtechnisch isoliert. Hier findet in der ersten Nacht traditionell ein Newcomer-Contest, der New Blood Award, statt, wobei der Gewinner des Wettbewerbs als Belohnung am Donnerstag auf der Pain Stage als Opener spielen darf. Außerdem wird im Zelt in der letzten Nacht die Metal Hammer Night veranstaltet. 2010 bot das Festival erstmals eine weitere Bühne, die sog. Camel Stage, die neben dem Partyzelt aufgebaut wurde. Diese Bühne wird von der Zigaretten-Marke Camel promotet. 2019 wechselte zum ersten Mal der Promoter der Bühne, so dass die bisher als Camel Stage bekannte Bühne nun den Namen "WERA TOOL REBEL STAGE" tragen wird. Seit 2010 wird Mittwochs eine Nuclear Blast Label Night veranstaltet mit Bands wie z. B. Equilibrium, Rage (Band) oder Unleashed. Zudem gibt es noch eine vierte Bühne namens "Ficken Party Stage" inmitten des Campgrounds.
Die jährliche Besucherzahl stieg in den letzten Jahren sprunghaft an, im Jahr 2011 konnte das Festival um 39.000 Besucher verzeichnen. Um den Besucheransturm bewältigen zu können, wurden schrittweise die Anfahrtsmöglichkeiten sowie die Park- und Campingflächen vergrößert. Die Bühnenanlage wurde ebenfalls umgestellt, um den Zuschauern kürzere Wege zwischen den Bühnen zu ermöglichen. Seit 2007 bietet das Festival einen Biergarten. Die Merchandise-Einkaufsmeile wurde ebenfalls ausgebaut und liegt auf dem Bühnengelände direkt zwischen der Einlasskontrolle bzw. Partyzelt und den beiden Hauptbühnen.
Außerdem wird ein kostenloser Shuttlebus-Service nach Dinkelsbühl und zurück angeboten, der regelmäßig im Zehn-Minuten-Takt verkehrt.
Das Camping ist ab Mittwoch im Ticketpreis enthalten, die Campingplätze öffnen jedoch traditionell bereits am Dienstag. Hierfür muss eine Extragebühr vor Ort entrichtet werden (10 € pro Tag).
Das Campinggelände ist mit Duschen, gespülten Toiletten, Trinkwasserstellen, Dixi-Toiletten, kleinen Supermärkten, Essensständen und Info-Boards versehen und wird durchgehend von Polizei, Feuerwehr, Rettungsdiensten und Sicherheitsdienst patrouilliert.
Zudem gibt es mit dem Handicapped Camping einen speziellen Bereich für Besucher mit Behinderung / Rollstuhlfahrer / Schlafapnoiker. Das Gelände ist mit Podesten inkl. behindertengerechter Toiletten für Rollstuhlfahrer vor den Open Air Bühnen ausgerüstet. Es wird versucht das Festival so barrierefrei wie möglich zu gestalten.
Die Bands
Der Schwerpunkt der Bandauswahl liegt in einer Mischung aus Death Metal, Hardcore Punk, Metalcore und Thrash Metal. Es sind jedoch regelmäßig auch Bands aus anderen Metalrichtungen, Hard Rock, Folk Rock, sowie Mittelalter-Rock vertreten. Während 1997 noch keine allzu prominenten Bands auftraten, finden sich mittlerweile viele Größen des Genres in den aktuellen Line-ups. Beispiele sind Anthrax, In Flames, Amon Amarth, Children of Bodom, Kreator, Subway to Sally, Saltatio Mortis, Sodom, Soilwork, Tankard, Die Apokalyptischen Reiter, Nightwish und Hatebreed.
Besondere Ereignisse
Zum zehnjährigen Jubiläum des Festivals im Jahr 2007 führte die Melodic-Death-Metal-Band Amon Amarth ein spezielles Bühnenprogramm mit Schauspieler-Wikingern auf. Außerdem wurde zu diesem Anlass ein eigenes Wikinger-Camp vor dem Bühnengelände eingerichtet.
2010 trat der Komiker Bülent Ceylan als Überraschungsgast mit einer 20-minütigen Show auf der Main Stage auf.
2015 verzeichnete das Festival auf ca. 45.000 Besucher nur 4 Delikte wegen Körperverletzung.
2017 kam es überraschend zu einem doppelten Auftritt der Melodic-Death-Metal-Band Amon Amarth. Außerdem trat Doro zusammen mit Amon Amarth für einen Song auf.
Das Schwesterprojekt
In den Wintermonaten fand ein von den Summer-Breeze-Veranstaltern organisiertes Festival namens Winter Freeze statt, das allerdings nur einen Tag dauerte. Die Bandauswahl war der des Summer Breeze sehr ähnlich. Es traten ebenfalls bekanntere Bands auf. Das Festival gab es nur in den Jahren 2009, 2010 und 2011.
Veröffentlichungen
2002: Summer Breeze – All Areas 2002 (Warner Music Group)
2004: Summer Breeze vs. Metal Blade (Promo-CD für die Festivalgäste)
2005: Summer Breeze 2005 (Promo-CD für die Festivalgäste)
2006: Summer Breeze 2006 (Promo-CD für die Festivalgäste)
2008: Summer Breeze 2007 (DVD-Gratiszugabe für frühzeitige Ticketbestellung)
2009: Summer Breeze 2008 (DVD-Gratiszugabe für frühzeitige Ticketbestellung)
2010: Summer Breeze 2009 (DVD-Gratiszugabe für frühzeitige Ticketbestellung)
2012: Summer Breeze 2010 (DVD-Gratiszugabe für frühzeitige Ticketbestellung)
2013: Summer Breeze 2011 (DVD-Gratiszugabe für frühzeitige Ticketbestellung)
2014: Summer Breeze 2012 (DVD-Gratiszugabe für frühzeitige Ticketbestellung)
2015: Summer Breeze 2013 (DVD-Gratiszugabe für frühzeitige Ticketbestellung)
2016: Summer Breeze 2014 (DVD-Gratiszugabe für frühzeitige Ticketbestellung)
2017: Summer Breeze 2015 (DVD-Gratiszugabe für frühzeitige Ticketbestellung)
Das Line-Up
1997 = Apophis, Dawn of Dreams, Face Your Fear, My Misery, Voodoo Kiss, Wild Africans, Gap, Cold Room, Madman's Law, M.I.T., Synergy, Ember's Fire
1999 = Darkseed, End of Green, Undertow, Voodoo Kiss, Night in Gales, Crack Up, Apophis, Dawn of Dreams, Fatered, Mr.Vader
2000 = Crematory, Sacred Steel, Fleshcrawl, Blackend, Suidakra, Tom Angelripper, Weissglut, Vader, Night in Gales, Undertow, My Deepest Inner, Lacrimas Profundere, Dies Ater, Black Abyss, Le Cri Du Mort, Dark Breed, Faster But Slower, |Kickdown, Immortal Rites, Coldspell, Subway to Sally, Farmer Boys, Brainstorm, Apophis, Flowing Tears, Izegrim, Dark at Dawn, Cryptic Carnage, Mr. Vader, Dry Rot, Behind the Scenery, E 605, M.E.L.T., Sudden Death, Twelve After Elf, Deadspawn
2001 =
Paul Di'Anno, Vanishing Point, Eternal Darkness, Rage, Amorphis, Lacuna Coil, Stone the Crow, Graveworm, Symphorce, Aeternitas, The Armada, Haggard, Immortal, Kreator, Die Happy, Farmer Boys, Tankard, God Dethroned, The Crown, EverEve, Crack Up, Jack Frost, Chinchilla, Adorned Brood, Koroded, Fatered, Karkadan, Tom Angelripper, In Extremo, Primal Fear, Moonspell, Pyogenesis, Finntroll, Dawn of Dreams, End of Green, Ektomorf, In Blackest Velvet, Asterius, Bloodflowerz, Dew-Scented, Red Aim, Mirrored Mind, Pettypew, Capsize
2002 = Tiamat, Ektomorf, Edguy, Red Aim, Hypocrisy, Belphegor, Bonfire, Die Schinder, Entwine, Night in Gales, Suidakra, Deep Inside Myself, Criminal, Burden of Grief, Mr.Vader, Dry Rot, Volcano, Pain, Dimmu Borgir, Axxis, Nightwish, Vader, The Gathering, Bloodflowerz, Emil Bulls, disbelief, Soilwork, Mystic Circle, The More I See, After Forever, Left Hand Solution, No Return, Smoke Blow, Thorn.Eleven, Substyle, Charon, Dark at Dawn, Mirror of Deception, Mourning Caress, Redrum Inc., Real:Dead:Love:, Pro-Pain, Paradise Lost, Prime Sth, Samael, Stormwitch, Sentenced, End of Green, Brainstorm, Die Apokalyptischen Reiter, Within Temptation, Agathodaimon, Amon Amarth, Undertow, Flowing Tears, Raunchy, Gurd, Crystal Ball, Ashes You Leave, Ewigheim, The Nerves, My Darkest Hate, The Blue Season, Furbished Face, Y Not
2003 =
The Kovenant, Subway to Sally, Pyogenesis, Krokus, Pungent Stench, Rage, Symphorce, Napalm Death, Psychopunch, Bloodflowerz, Edenbridge, Sincere, Final Breath, Sleepinggodslie, Finntroll, In Extremo, Amorphis, Children of Bodom, Die Apokalyptischen Reiter, Primal Fear, Naglfar, Amon Amarth, disbelief, Farmer Boys, Graveworm, Heaven Shall Burn, Hypnös, Justice, Thunderstorm, Darkwell, Fallen 2 Pieces, Age of Ignorance, Letzte Instanz, In Flames, The Crown, J.B.O., Hollenthon, Within Temptation, End of Green, Sinner, Undertow, God Dethroned, Callenish Circle, Dew-Scented, Desaster, Darkseed, Elis, Koroded, The Armada, Defending the Faith
2004 = Lords of Decadence, Fragments of Unbecoming, Rawhead Rexx, Gorerotted, Mörk Gryning, Vomitory, Sonata Arctica, Fleshcrawl, Crematory, Saltatio Mortis, Hypocrisy, Lake of Tears, Sentenced, Goddess of Desire, Mental Amputation, Alev, Beseech, Sleepinggodslie, Criminal, Dark Fortress, Evergrey, Mercenary, Green Carnation, Leaves' Eyes, Xandria, Vintersorg, Sodom, Tankard, Die Happy, Sirenia, Six Feet Under, Katatonia, Busta Hoota, Paragon, Immortal Rites, Equilibrium, Deadsoul Tribe, Hatesphere, Mnemic, Honigdieb, Disillusion, Cataract, Schandmaul, Ensiferum, Brainstorm, Psychopunch, U.D.O., Primordial, Danzig, Finntroll
2005 = Midnattsol, Final Breath, Born from Pain, Anorexia Nervosa, The Bones, Impious, Pink Cream 69, Macabre, Schandmaul, God Dethroned, Therion, Ektomorf, Amon Amarth, Haggard, Powerwolf, Maroon, Korpiklaani, Aborted, Koroded, Nocte Obducta, Krisiun, Skindred, Emil Bulls, Norther, Die Apokalyptischen Reiter, Behemoth, Dark Tranquillity, Atrocity, Opeth, The Exploited, In Extremo, Wintersun, Barcode, Suidakra, Draconian, Enthroned, Lacrimas Profundere, Endstille, Orphaned Land, disbelief, Caliban, The Vision Bleak, Such a Surge, Symphorce, Subway to Sally, End of Green, J.B.O., Tristania, Lacuna Coil, Pain
2006 =
Subconscious, Tourettes Syndrome, Volbeat, Undertow, Neaera, Angel Blake, The Haunted, Saltatio Mortis, Moonspell, 1349, Finntroll, ASP, Kreator, Katatonia, Apostasy, Excrementory Grindfuckers, Leng Tch'e, The Ocean, Trail of Tears, Fragments of Unbecoming, Potentia Animi, Scar Symmetry, Rebellion, One Man Army and the Undead Quartet, Exilia, Turisas, Amorphis, Heaven Shall Burn, Morbid Angel, Liv Kristine, Lacrimosa, Deathstars, The Other, Perzonal War, Lumsk, Gojira, Visions of Atlantis, Legion of the Damned, Necrophagist, Carnal Forge, Totenmond, Psychopunch, Corvus Corax, Thyrfing, Negative, Bloodflowerz, Gamma Ray, Unleashed, Fear Factory, My Dying Bride
2007 = Breschdleng, Unblest, Might of Lilit, Stitch, Karma.Connect, Last One Dying, Justice, Powerwolf, Impious, Swallow the Sun, Fear My Thoughts, Immolation, Lacrimas Profundere, After Forever, Krypteria, Rage, The Black Dahlia Murder, Doro, Suffocation, Nevermore, Tanzwut, Amon Amarth, Dornenreich, Deadlock, Nightrage, Fall of Serenity, War from a Harlots Mouth, Karkadan, Dagoba, Eluveitie, Koldbrann, Illdisposed, Disillusion, Eisbrecher, Hevein, Sirenia, Necrophobic, L'Âme Immortelle, End of Green, Finntroll, Volbeat, Bolt Thrower, Poisonblack, In Extremo, Dark Funeral, Black Messiah, Squealer, Absolute, President Evil, Sycronomica, Helrunar, Machinemade God, Secrets of the Moon, Maroon, Communic, Blitzkid, Hardcore Superstar, Xandria, Die Apokalyptischen Reiter, Tankard, Dark Tranquillity, Moonsorrow, Oomph!, Caliban, Soulfly, Pain
2008 = Bloodwork, A Dead Lament, Black Thoughts Bleeding, Dargolf Metzgore, My Elegy, Fuck Your Shadow from Behind, Anima, Lay Down Rotten, The Rotted, Hail of Bullets, Born from Pain, Fleshcrawl, All Ends, Emil Bulls, Aborted, Saltatio Mortis, Graveworm, Apophis, Soilwork, Drone, The Wildhearts, Negură Bunget, Arch Enemy, Kissin' Dynamite, Behemoth, Ahab, Paradise Lost, Diablo Swing Orchestra, Primordial, Onslaught, Helloween, Cephalic Carnage, Marduk, Týr, Cult of Luna, Despised Icon, Dark Age, Heidevolk, Midnattsol, 3 Inches of Blood, Schelmish, Mad Sin, Megaherz, Korpiklaani, Pro-Pain, Enemy of the Sun, Exodus, XIV Dark Centuries, Eluveitie, Beloved Enemy, As I Lay Dying, Sworn, End of Green, Rotten Sound, Six Feet Under, Månegarm, Kataklysm, Shadow Reichenstein, Subway to Sally, Textures, ASP, Hollenthon, The Vision Bleak, Jesus on Extasy, Debauchery, Japanische Kampfhörspiele, The Old Dead Tree, Autumn, Hackneyed, Endstille, Keep of Kalessin, Dismember, Neaera, Agrypnie, Ensiferum, NME.MINE, Primal Fear, Hacride, H-Blockx, Misery Speaks, Sonic Syndicate, Misanthrope, Heaven Shall Burn, Novembre, Destruction, Mustasch, Cradle of Filth, Jack Frost, Anathema, Dark Fortress
2009 = Cyrcus, Sheephead, Dreamshade, Cypecore, Second Relation, One-Way Mirror, Razor of Occam, Vomitory, God Dethroned, Powerwolf, Cataract, Katra, Deadlock, Vader, Grand Magus, Jack Slater, Unheilig, Sylosis, Equilibrium, Psycroptic, J.B.O., Beneath the Massacre, Walls of Jericho, Hackneyed, Kreator, The Red Chord, Backyard Babies, Anaal Nathrakh, Corvus Corax, Misery Index, Katatonia, Hate Eternal, Suffocation, Carnifex, The Faceless, UnSun, The New Black, The Cumshots, Battlelore, Callejon, Nim Vind, The Other, Sacred Steel, Psychopunch, Skyforger, The Haunted, Black Messiah, Entombed, Obscura, Schandmaul, Koldbrann, Sabaton, Urgehal, Life of Agony, Cynic, Amorphis, Vreid, Amon Amarth, The Sorrow, Haggard, Firewind, Protest the Hero, Raunchy, Elvenking, Benighted, Black Sun Aeon, The Storm, Before the Dawn, Grave, Krypteria, Born from Pain, Unlight, Epica, Narziss, Brainstorm, Waylander, Evergreen Terrace, Excrementory Grindfuckers, Moonspell, Hate, Legion of the Damned, Ghost Brigade, Volbeat, Evocation, Voivod, Bury Me Deep, Opeth, Dagoba, Deathstars, Secrets of the Moon
2010 =
1349, A.O.D., Agnostic Front, Ahab, Anathema, Annotations of an Autopsy, Asphyx, Barren Earth, Be'Lakor, Blasmusik Illenschwang, Bleeding Red, Breschdleng, Callisto, Cannibal Corpse, Children of Bodom, Count Raven, Cumulo Nimbus, Dark Funeral, Dark Tranquillity, Das Pack, Deadstar Assembly, Despised Icon, Destinity, Dew-Scented, Die Apokalyptischen Reiter, disbelief, Down Spirit, Dream Evil, Dying Fetus, Eisbrecher, Eisregen, End of Green, Endstille, Ensiferum, Equilibrium, Fejd, Feuerschwanz, Fiddler's Green, Frei.Wild, Gorgoroth, Grailknights, Gwar, Hacride, Hail of Bullets, Heaven Shall Burn, Hypocrisy, Ill Niño, InMe, Insomnium, Johnny and the Hot Rods, Kadavrik, Korpiklaani, Kylesa, Leaves' Eyes, Letzte Instanz, Leviathan, Long Distance Calling, Macabre, Månegarm, Maroon, Milking the Goatmachine, Mono Inc., My Dying Bride, Napalm Death, Necrophagist, Obituary, Origin, Orphaned Land, Pantheon I, Parasite Inc., Parkway Drive, Poisonblack, Psychopunch, Rage, Raised Fist, Rebellion, Sepultura, Sick of It All, Sideblast, Sólstafir, Subway to Sally, Suffocation, Suicidal Angels, Swallow the Sun, The 69 Eyes, The Black Dahlia Murder, The Crown, The Devil's Blood, The Foreshadowing, The Smack Ballz, The Very End, Tieflader, Torturized, Tracedawn, Triptykon, Undertow, Unleashed, Van Canto, War from a Harlots Mouth, Warbringer, Watain, We Butter the Bread with Butter
2011 =
9mm Assi Rock 'n' Roll, A Pale Horse Named Death, AC/DX, Aborted, Adept, Amorphis, Arch Enemy, Arcturon, As I Lay Dying, Benighted, Bolt Thrower, Burden of Grief, Caliban, Comeback Kid, Corvus Corax, Criminal, Cripper, Davidian, Deadlock, Death Before Dishonor, Decapitated, Demonical, Der Weg einer Freiheit, Destruction, Devil Sold His Soul, Dezperadoz, Einherjer, Emil Bulls, Engel, Enslaved, Excrementory Grindfuckers, Facebreaker, Farewell to Arms, Farmer Boys, God Dethroned, Grand Magus, Graveyard, Guns of Moropolis, Hackneyed, Hail of Bullets, Hammerfall, Hatebreed, Hell, Helrunar, Ignite, Imperium Dekadenz, In Extremo, Interment, J.B.O., Kalmah, Kampfar, Kataklysm, Kilt, Kvelertak, Mad Sin, Marduk, Melechesh, Moonsorrow, Motorjesus, Neaera, Nervecell, Obscura, Postmortem, Powerwolf, Primordial, Ranz Böllner and the Heavy Metal Warriors, Rev 16:8, Rotting Christ, Saltatio Mortis, Scar Symmetry, Secrets of the Moon, Seventh Void, Shear, Skeletonwitch, Smoke Blow, Sodom, Sonic Syndicate, Stahlmann, Steve from England, Suicidal Tendencies, Swashbuckle, Sylosis, Tarja, The Haunted, The Ocean, The Sorrow, Total Chaos, Trigger the Bloodshed, Turisas, Týr, Vader, Vicious Rumors, Vogelfrey, Volksmetal, Vomitory, Vreid, Weissglut, Witchery, Wolf, Your Demise
2012 = Agrypnie, Ahab, Alcest, Amoeba, Amon Amarth, Anaal Nathrakh, Asirius, ASP, Asphyx, Audrey Horne, Before the Dawn, Behemoth, Be'Lakor, Bembers, Betontod, Black Sheriff, Black Sun Aeon, Blasmusik Illenschwang, Bleed from Within, Born from Pain, Buffet of Fate, Bullet, Cattle Decapitation, Corvus Corax, Crowbar, Darkest Hour, Dark Tranquillity, Deathstars, Deez Nuts, Desaster, Devil's Train, Dew-Scented, Die Apokalyptischen Reiter, Die Kassierer, Eisregen, Eluveitie, Entrails, Epica, Eskimo Callboy, Every Time I Die, Excrementory Grindfuckers, Farsot, Ghost Brigade, Glorior Belli, Goodbye to Gravity, Graveworm, Hatesphere, Heidevolk, Helheim, Iced Earth, Immortal, Incantation, In Solitude, Insomnium, Jasta vs. Windstein, Katatonia, Krisiun, Lacuna Coil, Mambo Kurt, Månegarm, Menhir, Mono Inc., Morgoth, Municipal Waste, Mystic Prophecy, Naglfar, Napalm Death, Nifelheim, Night in Gales, Nile, Nitrogods, Norma Jean, Obscure Sphinx, Ohrenfeindt, Oomph!, Paradise Lost, Peter Pan Speedrock, Rage, Roterfeld, Sepultura, Shining, Sick of It All, Six Feet Under, Ski's Country Trash, Stier, Subway to Sally, Tankard, Tanzwut, Tasters, Terror, The Foreshadowing, The Rotted, The Unguided, Toxic Holocaust, Unearth, Unleashed, Vallenfyre, We Butter the Bread with Butter, While She Sleeps, Within Temptation, Without Words
2013 = Agnostic Front, Alestorm, Amorphis, Anthrax, Architects, Arkona, Bembers, Benediction, Blasmusik Illenschwang, Bob Wayne & the Outlaw Carnies, Bury Tomorrow, Carach Angren, Cliteater, Cult of Luna, Cultus Ferox, Dark Funeral, Das Niveau, Der W, Der Weg einer Freiheit, Deserted Fear, Destruction, DevilDriver, Dr. Living Dead!, Dying Fetus, Eddie Spaghetti, Eisbrecher, End of Green, Ensiferum, Enslaved, Evergreen Terrace, Evocation, Exodus, Fear Factory, Feuerschwanz, Fiddler's Green, Finntroll, Firewind, First Blood, Gasmac Gilmore, Grand Supreme Blood Court, Grave, Haggard, Hammercult, Hate, Hatebreed, Honigdieb, Illdisposed, In Flames, Knorkator, Korpiklaani, Lamb of God, Leaves' Eyes, Letzte Instanz, Long Distance Calling, Madball, Marduk, Merrimack, Misanthrope, Moonspell, Mustasch, Nasty, Neaera, Necrophobic, Nocte Obducta, Orden Ogan, Orphaned Land, Powerwolf, Primordial, Pro-Pain, Revel in Flesh, Rotten Sound, Sabaton, Saltatio Mortis, Sister Sin, Ski King & Band, Soilwork, Sólstafir, The Bones, Tiamat, Tragedy, Tristania, Vader, Van Canto, VK Goes Wild, Volksmetal, Walls of Jericho, We Came as Romans, Whitechapel, Wild Zombie Blast Guide, Winterfylleth, Witchcraft, Year of the Goat
2014 = Aborted, Ahab, Anneke van Giersbergen, Annisokay, Arch Enemy, August Burns Red, Behemoth, Benediction, Betontod, Biohazard, Blues Pills, Brainstorm, Caliban, Callejon, Carcass, Children of Bodom, Chrome Division, Crucified Barbara, Deadlock, Decapitated, Delain, Devin Townsend Project, Die Kassierer, Down, Einherjer, Enforcer, Equilibrium, Excrementory Grindfuckers, Gothminister, Grand Magus, Hail of Bullets, Heaven Shall Burn, Heretoir, Hypocrisy, Ignite, Impaled Nazarene, Imperium Dekadenz, In Extremo, Insomnium, Iwrestledabearonce, J.B.O., Kampfar, Kärbholz, Legion of the Damned, Lost Society, Machine Head, Maroon, Mono Inc., Mors Principium Est, Omnium Gatherum, Orchid, Pentagram Chile, Primal Fear, Rotting Christ, Sahg, Secrets of the Moon, Tarja, Tenside, Testament, The Unguided, Twilight of the Gods, Undertow, Watain, Wintersun
2015 =
Agalloch, Alestorm, Amorphis, Antropomorphia, Any Given Day, Autumnal, Avatarium, Battle Beast, Be'Lakor, Below, Belphegor, Betontod, Betraying the Martyrs, Black Stone Cherry, Blasmusik Illenschwang, Bloodbath, Blutengel, Breakdown of Sanity, Cannibal Corpse, Carnifex, Chapel of Disease, Carach Angren, Combichrist, Corvus Corax, Cradle of Filth, Crown, Dark Fortress, Dark Tranquillity, Dead Lord, Death Angel, Death (DTA Tours), Demonical, Deserted Fear, Destruction, Devilment, Diablo Blvd, Die Apokalyptischen Reiter, Dornenreich, Dreamshade, Drescher, Dust Bolt, Eisregen, Ektomorf, Emil Bulls, Ensiferum, Finsterforst, Fire Red Empress, Fuck You and Die, Ghost Brigade, Gloryhammer, Gogets, Hackneyed, Hark, Hatebreed, Haudegen, Heidevolk, Hotrod Mayhem, Hour of Penance, Hämatom, Inquisition, Isole, John Coffey, Kadavar, Kataklysm, Kissin' Dynamite, Knorkator, Kreator, Kyle Gass Band, Lantlôs, Lifeless, Majesty, Marduk, Megaherz, Milking the Goatmachine, Morgoth, Nachtgeschrei, Nailed to Obscurity, Neaera, Necrotted, Ne Obliviscaris, Nervosa, Nightwish, Obey the Brave, Opeth, Ost+Front, Panzer, Paradise Lost, Powerwolf, Pripjat, Pyogenesis, Rectal Smegma, Reliquiae, Revel in Flesh, Rogash, Saltatio Mortis, Schirenc Plays Pungent Stench, Sepultura, Serum 114, Severe Torture, Sick of It All, Sister Sin, Sodom, Sonic Syndicate, Steve 'n' Seagulls, Suicidal Angels, Suicide Silence, Tankard, Temple of Baal, Terror Universal, The Duskfall, The Green River Burial, The Sirens, Thränenkind, Thy Art Is Murder, To the Rats and Wolves, Trivium, Troldhaugen, Trollfest, Venom, Vitja, Walls of Jericho
2016 = Abbath, Accuser, Aeverium, Agnostic Front, Almanac, Airbourne, Arch Enemy, Argyle Goolsby and The Roving Midnight, Arkona, Arktis, Asenblut, Asking Alexandria, At the Gates, Aurora, Batushka, Bembers, Beyond the Black, Bliksem, Blues Pills, Bombus, Burning Down Alaska, Bury Tomorrow, Bömbers, Carcass, Cattle Decapitation, Cliteater, Coheed and Cambria, Conan, Coppelius, D-A-D, Deadlock, Deez Nuts, Downfall of Gaia, Dying Fetus, Dyscordia, Eisbrecher, Emmure, Entombed A.D., Equilibrium, Evil Invaders, Exodus, Fear Factory, Feuerschwanz, Fäulnis, Goitzsche Front, Gorod, Grailknights, Grand Magus, Graveyard, Gyze, H₂O, Hammercult, Harakiri for the Sky, Heart of a Coward, Hell City, High Fighter, Illdisposed, Implore, Insanity Alert, In the Woods…, Iron Reagan, Katatonia, Ketzer, Kneipenterroristen, Korpiklaani, Kärbholz, Letzte Instanz, Lord of the Lost, Lost Society, Mantar, Mastodon, Moonsorrow, Mr. Hurley & die Pulveraffen, My Dying Bride, Napalm Death, Nasty, Nim Vind, Nocte Obducta, Novelists, Obscura, Obscure Infinity, Ohrenfeindt, One I Cinema, Pain, Parasite Inc., Parkway Drive, Primordial, Psychopunch, Queensrÿche, Randale, Raunchy, Rotten Sound, Sabaton, Saille, Satyricon, Siberian Meat Grinder, Skálmöld, Slaughterday, Slayer, Smoke the Sky, Soilwork, Stallion, Steak Number Eight, Steel Panther, Stepfather Fred, Stick to Your Guns, Subway to Sally, Swallow the Sun, Testament, The Black Dahlia Murder, The Hirsch Effekt, The New Roses, The Other, The Word Alive, Thundermother, Toxpack, Tragedy, Traitor, Tribulation, Undertow, Unearth, Unleashed, Unleash the Sky, Vader, Versengold, Virtue Concept, Winterstorm, Wolfheart, Zodiac
2017 = 1349, Amon Amarth, Amorphis, Architects, Asphyx, August Burns Red, Aversions Crown, Bembers, Benighted, Betontod, Black Inhale, Blasmusik Illenschwang, Born from Pain, Corvus Corax, Carnation, Cellar Darling, Chelsea Grin, Children of Bodom, Crisix, Crowbar, Crushing Caspars, Cryptopsy, Cut Up, Cypecore, Dark Tranquillity, Darkness, Blacksmith & Kerker, Dawn of Disease, Decapitated, Delain, Der Weg einer Freiheit, Destruction, Devin Townsend Project, Double Crush Syndrome, Eisregen, Eluveitie, Emil Bulls, End of Green, Endseeker, Ensiferum, Epica, Erdling, Excrementory Grindfuckers, Fallujah, Fiddler's Green, Fight the Fight, Finntroll, Firkin, Firtan, Fit for an Autopsy, Fjoergyn, Gloryful, Gorguts, Haggard, Hatebreed, Havok, Heaven Shall Burn, Humiliation, Imminence, In Extremo, Infected Rain, Insomnium, Kitty in a Casket, Knorkator, Kontinuum, Korn, Kreator, Life of Agony, Long Distance Calling, Megadeth, Memoriam, Mgła, Miss May I, Mono Inc., Moonspell, Mors Principium Est, Motorjesus, Mr. Hurley & die Pulveraffen, Nachtgeschrei, Night Demon, Nile, Nothgard, Obituary, Oceans Ate Alaska, Overkill, Possessed, Powerwolf, Primal Fear, Randale, Revel in Flesh, Revocation, Sacred Reich, Schammasch, Shiraz Lane, Sister, Skeleton Pit, Sonata Arctica, Spitfire, Spoil Engine, Steve 'n' Seagulls, Suffocation, Supernova Plasmajets, Terror, Tesseract, The Charm the Fury, The Lurking Fear, The New Black, The New Roses, Tiamat, Totengeflüster, Tragedy, Turbobier, Uada, Unzucht, Vital Remains, Vomitory, Waldgeflüster, Wardruna, While She Sleeps, Whitechapel, Wintersun, Within the Ruins, Wolfchant
2018 =
A Secret Revealed, Acranius, Alcest, Alestorm, Alien Weaponry, Amaranthe, Ancst, Annisokay, Any Given Day, Arch Enemy, At the Gates, Auðn, Backyard Babies, BAEST, Bannkreis, Beartooth, Behemoth, Betraying the Martyrs, Blasmusik Illenschwang, Bloodbath, Bloodred Hourglass, Broken Teeth, Caliban, Cannibal Corpse, Carnifex, Carpenter Brut, Celeste, Comeback Kid, Counterparts, Danko Jones, Deathrite, Die Apokalyptischen Reiter, Dirkschneider, Doro, Dying Fetus, Einherjer, Eisbrecher, Ereb Altor, Eskimo Callboy, Evil Scarecrow, Exhorder, Fantasy Filmfest presents: "Metalhead", Farmer Boys, Feuerschwanz, Fight the Fight, Forever Still, Fractured Insanity, Goatwhore, Graveyard, GrooVenoM, Gyze, Halcyon Days, Harakiri for the Sky, Heilung, Insanity, J.B.O., Japanische Kampfhörspiele, Jasta, Jinjer, Kadavar, Kataklysm, Korpiklaani, Lüt, Malevolence, Marduk, Megaherz, Misery Index, Monuments, Morbid Alcoholica, Mr. Hurley und die Pulveraffen, Municipal Waste, Napoleon, Necrotted, Nervosa, Night in Gales, Night Laser, Northlane, Obscura, Omnium Gatherum, Ondt Blod, Orange Goblin, Orden Ogan, Origin, Orphaned Land, Pallbearer, Papa Roach, Paradise Lost, Parasite Inc., Perturbator, Phil Campbell and the Bastard Sons, Pillorian, Powerwolf, Pro-Pain, RAM, Randale, Rolo Tomassi, Ross the Boss, Saltatio Mortis, Satyricon, Schandmaul, Seasons in Black, Sepultura, SIBIIR, Sick of It All, Sign of Cain, Sirenia, Sólstafir, Spitfire, Stillbirth, Suicidal Tendencies, Tankard, The Black Dahlia Murder, The Cruel Intentions, The Night Flight Orchestra, The Rock 'n' Roll Wrestling Bash, The Sleeper, The Spirit, Toxic Holocaust, Tragedy, Tragedy of Mine, Trivium, Turisas, Van Schelln, VENUES, Vreid, W.A.S.P., Warbringer, Watch Them Fade, Wheel, Wolfheart
2019 = Aborted, After the Burial, Ahab, Airbourne, Anaal Nathrakh, Avantasia, Avatar, Battle Beast, Beast in Black, Blasmusik Illenschwang, Brainstorm, Brymir, Bullet for My Valentine, Burning Witches, Bury Tomorrow, Caspian, Clawfinger, Code Orange, The Contortionist, Cradle of Filth, Crippled Black Phoenix, Cypecore, Death Angel, Decapitated, Deicide, Déluge, Deserted Fear, Dimmu Borgir, The Dogs, Dornenreich, Downfall of Gaia, Dragonforce, Dust Bolt, Dyscarnate, Eluveitie, Emperor, Endseeker, Enslaved, Equilibrium, Evergreen Terrace, Evil Invaders, Final Breath, Gaahls Wyrd, Get the Shot, Grand Magus, Gutalax, Hämatom, Hamferð, Hammerfall, Harpyie, Higher Power, Hypocrisy, In Flames, Ingested, Izegrim, Kambrium, King Diamond, Kissin' Dynamite, Knasterbart, Krisiun, Kvelertak, The Lazys, Legion of the Damned, Letters from the Colony, Lik, Lionheart, Loathe, Lord of the Lost, Meshuggah, Midnight, Mr. Irish Bastard, Mustasch, Myrkur, Nailed to Obscurity, Napalm Death, Nasty, The Ocean, Oceans of Slumber, Of Mice & Men, Parkway Drive, Queensrÿche, Randale, Rectal Smegma, Rise of the Northstar, Rotting Christ, Skálmöld, Slaughter Messiah, Soilwork, Subway to Sally, Testament, Thy Art Is Murder, Turbobier, Twilight Force, Unearth, Une Misère, Unleashed, Unprocessed, Van Canto, Versengold, Windhand, Winterstorm, Zeal & Ardor
2020 = 1914, Agrypnie, Alestorm, Amenra, Amon Amarth, Amorphis, Any Given Day, Architects, Belzebubs, Benighted, Bloodywood, Cattle Decapitation, Clutch, Combichrist, Cytotoxin, Dark Tranquillity, Debauchery, Despised Icon, Djerv, Eisregen, Emil Bulls, Ensiferum, Fiddler's Green, Fight the Fight, Finntroll, Fleshcrawl, Gloryhammer, God Is an Astronaut, Gutalax, Haggefugg, Igorrr, Infected Rain, I Prevail, Kraanium, Lüt, Mr. Hurley & die Pulveraffen, Myrkur, Neaera, The New Roses, Nytt Land, The Oklahoma Kid, Opeth, Pipes and Pints, Primal Fear, Sacred Reich, Shadow of Intent, Siamese, Slope, Sonata Arctica, Static-X, Stray from the Path, Swallow the Sun, Takida, Thundermother, Tides from Nebula, Triddana, Uada, The Vintage Caravan, Vulture, Warkings, The Wildhearts, Within Temptation, Wolves in the Throne Room